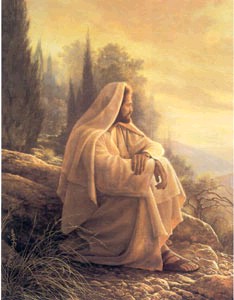 Watching and Waiting
As I read so many posts on the blogs, and listen to "Progressive Talk Radio" I fear that very few understand what we are up against, and what is really happening. Part of the problem is that even Christians think that Jesus is someone to be added to our plans. We are going along our merry way and have a spiritual encounter, add Jesus, and continue along our merry way. True Biblical Christianity is about something much bigger. It is not something you add to your life, it is what life is all about. We were not made to have our nice little life, or accumulate as much wealth as we can and ask God to bless it. We are all looking for that place of comfort, peace and rest. It only exists in the presence of God. Mt: 11:28: "Come unto me, all ye that labor and are heavy laden, and I will give you rest."
We in America act like democracy and capitalism are infallible. These philosophies are only as good as the people that implement them. Our founding fathers realized this; that is why they instituted the systems of checks and balances. They had seen what tyranny and religious oppression had brought upon the people of Europe. The people that fled to America came here to be FREE from those unjust rulers. America had a vision to treat all men justly. All had the God given right to life liberty and the pursuit of happiness. Today the Neo-Cons have all but destroyed our two party system. (It was meant to be a several party system) They control the White House, the Senate, The Congress, The Supreme Court,
The Media
and most of the major corporations. We had a battle against the forces of darkness right from the start. Not only did we slaughter the original citizens of this land, but the effort to have a ruling class and oppress others had taken root as well. They justified a slave class so some could enjoy a leisurely life. Though our founding fathers for the most part may not have been Christians, they had a heart for their fellow man. Rom: 2:14: "For when the Gentiles, which have not the law, do by nature the things contained in the law, these, having not the law, are a law unto themselves:"
Many well meaning Christians are praying for America. We would like to see us get back on track, to fix the mess we are in. This is all well and good, but let's not lose sight of what is really happening. Everything man touches and endeavors to bring about without the guidance of God will become corrupt. God is well aware of what is happening now. I don't want to sound like a fatalist, but this has been foretold. It is fine to pray for us to keep the status quo, but it is more productive to pray according to His will. Even Jesus didn't want to bear the cup of mans iniquity, and prayed that the Father would remove it, but prayed "not as I will, but as thou wilt". God is not up in heaven sitting on the edge of his throne scratching his head wondering what is going to happen next. He is bringing about his will.
One step has led to another to bring history to this point. We have seen forerunners to the Antichrist in history. We have declared our disdain for the atrocities of Hitler, yet the power of deception has blinded the masses again in the person of George W. Bush. Not because either were so intelligent or clever but because there is a far superior intelligence behind them (and I don't mean Carl Rove). It is a spirit, the Prince of Darkness and the Father of Lies. Eph: 6:12: "For we wrestle not against flesh and blood, but against principalities, against powers, against the rulers of the darkness of this world, against spiritual wickedness in high places". Both Hitler and Bush claimed to be the nation's leader and had not been elected by a majority vote, and many citizens claimed he had no right to the powers he coveted. Both used a terrorist attack to motivate the masses behind them; Hitler because of an attack on one of the countries most prestigious buildings, Bush because of the World Trade Center. The next step both used was to invoke fear and manipulate the media to control the masses. Both declared a vision of world domination and started a war without provocation. So pervasive was their deceptive powers that they were even able to distort the teachings of Christianity to a self indulgent body of supposed believers. If Jesus were to walk into most churches today and had short hair and maybe dressed in casual clothes, would you be able to recognize him? If He were to walk in with long hair and tattered clothes he might even get thrown out. Likewise unless the devil walked in wearing a red jump suit, horns and a pitchfork, few if any would be aware of his presence. Why do you suppose that is? How are we suppose to recognize the devil or Christ? We know them by their spirit. Jn: 10:14: "I am the good shepherd, and know my sheep, and am known of mine." This is one reason it is so important to walk the walk not just talk the talk, for it is in the walk that we know Him and his voice. Jn: 17:25: "O righteous Father, the world hath not known thee: but I have known thee, and these have known that thou hast sent me." The world doesn't recognize the Antichrist, because he is just like them. He has the same values; self first. As a seed is planted and grows into a tree, then over time it bears fruit. We have a self indulgent society, which lives buy the god of Mammon. This is not a Democrat or Republican thing, both sides have become corrupt. The problem we have with the Democrats is that it is hard to agree on spiritual principals, since their approach is more like the Sadducees. They like to believe that truth is relative. Therefore it is harder to find common ground. I do believe though that the principals put forth by the Democrats today are more closely aligned with the teachings of Christ As though the "law was written in their heart". The Republican Party on the other hand seems to have been taken control of by an extreme group of Pharisaical Hippocrates. When you can focus on a FLASH point you can motivate people; even if what you have used is a lie and at another group of peoples expense. This was a tactic used by the Nazis. They villainized the Jews and used Christianity; much the same way the strategists of these evil empire builders have used anger and fear issues like abortion and gay rights. I would like to point out the subtleties here. To believe in choice is not the same as believing in abortion. God gave us a choice in the garden, but they don't care about that, they think they can legislate righteousness. Choice is fundamental in a walk with God. Then they attack Gay people whom Christ died for. They call them Sodomites, they call homosexual love sodomy. I would like for a moment here to look at what the Bible says about Sodom. In Gen.19 if you read the account, it says ALL the men young and old came wanting to "Know" those men (Angels) that were in Lots house. Now it is not likely that
ALL
the men of the city where homosexual, and if they were why did Lot offer them his daughters? No, this was an act of violent rape. The Sin of Sodom was something more then homosexuality. As I have taught in another post, The Bible must interpret itself, not some right wing Fundamentalist. In Ezekiel: 16:49 it says "Behold,
this was the iniquity
of thy sister Sodom,
pride
, fullness of bread, (have you had a look at porky gluttonous Jerry Falwell lately?) and
abundance of idleness
(the idle rich) was in her and in her daughters, neither did she strengthen the hand of the
poor
and
needy
". Who are the REAL SODOMITES!!! We are a society that will pay a basket ball player, a movie star or rock star tens of millions of dollars for a performance to entertain us in our "abundance of idleness" because we are trying to escape from our conscience, and will not look after the poor or needy.
The leaders of these deceived Fundamentalists and their false Prophets are no more interested in the souls of the lost, then they are in eating a dead skunk. Gay people are told they must stop being gay; an idea that to a gay person seems impossible. Mt: 23:4: "For they bind heavy burdens and grievous to be borne, and lay them on men's shoulders; but they themselves will not move them with one of their fingers." They have put the cart before the horse. They say you must get clean so you can come to God. The correct approach to liberate anyone would be to tell of the beauty and wonders of Jesus. Jn: 12:32: "And I, if I be lifted up from the earth, will draw all men unto me." Any changes that need to be done will be done because of the love in the presence of God. Just as I am I come Lord Jesus. If we needed to get clean first, no one would make it. It is astounding to see the degree of hypocrisy and self loathing on the part of the Right Wing. Former Senator Jesse Helms of North Carolina used as one of his chief political operatives
A self loathing homosexual
. He helped deliver hard-edged political campaigns to elect conservatives that fiercely opposed gay rights, defeating Democrats by trying to demonize them as liberal. Now this man Arthur J. Finkelstein has married his long time gay partner "to ensure that the couple had the same benefits available to married heterosexual couples." Talk about hypocrisy!!!
We used to take comfort in the fact that when ever the pendulum swung too far to one extreme there would be a reaction that would bring it back into balance. What we see now is an effort and conspiracy to control so pervasively that the return to balance will not happen. There is plenty of reason to believe that the last two presidential elections were stolen, and they have no intention of being
"voted"
out of office. I would also urge you to find out who was really behind.
9/11
. Stephen Hanchett has presented an excellent case that George W. Bush is the final Antichrist in both his book and on his web sites. (links to both on the side panel here). It boggles the mind to think they could be behind such a thing as 9/11, but if he is who we think he is, we haven't seen anything yet. Our whole system has become so corrupt at this point; that I fear that there is no way out. What should we that see these things be doing? Spread awareness of the gospel and that the Kingdom of God is at hand. We must begin to come together with other like minded believers so that we may grow in wisdom and truth; that we may uphold one another. Many will think you are nuts, I already know this, they think it now of me. John: 1:10: "He was in the world, and the world was made by him, and the world knew him not". 2Tm:1:7: "For God hath not given us the spirit of fear; but of power, and of love, and of a sound mind". There is much to learn. There is much to understand. The Time is at hand. The birth pangs have begun. This new age is dawning.